The Amphion Consort (hailed as "excellent" by Time Out London) was founded by core members Jennifer Bennett and Yair Avidor.
Over the years they have collaborated with many wonderful musicians and singers creating programmes that range from the Renaissance and the Elizabethan period,
through 17th century music by Biber, Marais, Locke and Purcell, to Bach and Vivaldi,
while making forays into early 19th century works that feature the Romantic guitar by Boccherini, Beethoven and Giuliani.
The Amphion Consort has performed at the Handel House Museum, the National
Portrait Gallery and the National Gallery, Fitzwilliam College in Cambridge with tenor John Potter, Horniman Museum, for the Totnes Early Music Society and for AMIA in Strasbourg and was featured on two BBC programmes.
A recent 'cross-over- project with Jazz musician Gilad Atzmon was performed in 2013
at the Harwich Festival and as a set in Atzmon's concert for the London Jazz Festival
at the Queen Elizabeth Hall.
Jennifer Bennett started her musical journey when she was 6, teaching herself to play recorder and read music and later went to the prestigious Purcell School of Music as a gifted young violinist.
She specialised in early music at the Royal Conservatory in The Hague, Holland. Shortly after her studies she played with many of the UK leading period-instrument ensembles such as the Academy of Ancient Music, Gabrieli Consort and others.
Jennifer is a multi-instrumentalist on violin, viola, cello, viola d'amore, bass viol, recorder, flute and virginals.
A versatile musician, she is equally enthusiastic about performing works by living composers (some written especially for her), she has formed a duo with harpsichordist and jazz pianist David Gordon to explore improvisation in various historic styles, and has worked alongside silent film composer Stephen Horne.
Jennifer also performs her own compositions often exploring mystical texts.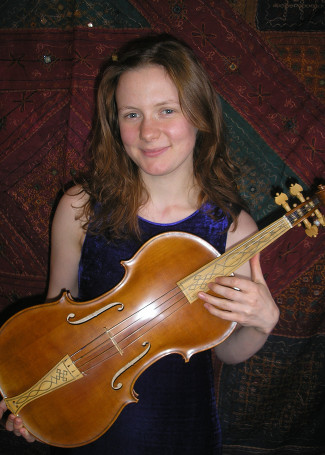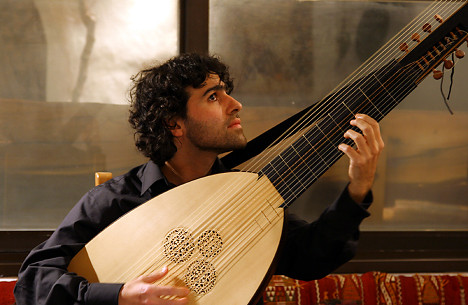 Yair Avidor was born in Tel Aviv and studied lute and early music in Bremen, Milan and London.
He plays lute, theorbo, and early guitars.
His main areas of interest are Elizabethan and Jacobean solo lute music, accompanying lute
songs, 17th- century French Pièces for lute and
theorbo and the late suites by Bach and Weiss.
His debut solo recording of the complete
theorbo works by Robert de Visee is to come
out in 2014.